Texas Comptroller Glenn Hegar will stop in Brownwood on Monday, September 18th as part of his Good for Texas Tour: Manufacturing Edition. Hegar, alongside local officials, will tour the 3M, Kohler and Superior Essex manufacturing plants as part of his visit.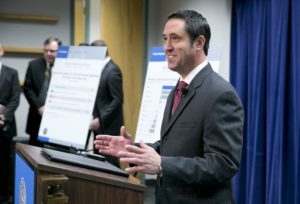 Hegar will make a public presentation about the tour and the impact of manufacturing in Texas at 2:30 PM at the Depot Civic & Cultural Center located at 600 E. Depot Street in Brownwood. The public is invited to the presentation to hear the Comptroller's remarks.
In all, Texas manufacturers were responsible for 3 million direct and indirect jobs in 2016. The average annual salary for direct jobs is nearly $75,000. In 2016, Texas manufacturers exported $210.3 billion in goods and contributed $225.8 billion to the GDP.
Glenn Hegar serves as the Texas Comptroller of Public Accounts and was elected to office in 2014.
The Texas Comptroller's office was originally created by the Texas provisional government in 1835. The Comptroller is the chief steward of the state's finances, acting as tax collector, chief accountant, chief revenue estimator and chief treasurer for all of state government, in addition to administering a number of other programs.
For more information about the Comptroller's visit to Brownwood, contact the Brownwood Area Chamber of Commerce.