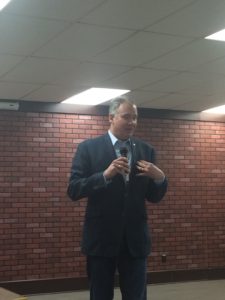 Speaking to a group of 35 who attended the January meeting of the Pecan Valley Republican Women, Empower Texans CEO Michael Quinn Sullivan spent most of his hour-long speech discussing priorities in public education, and how society at-large expects public schools to do more than they were intended to do.
Sullivan explained that the Texas Constitution requires the Texas Legislature to adequately fund public education for the general diffusion of knowledge, being necessary for the protection of the freedom and liberties of the republic.
"It's amazing that we talk about not having enough money to educate kids," Sullivan said, "and yet, the Allen ISD made headlines a couple of years ago for their $60 million football stadium.
It's not the third grader who requests a jumbotron at the football stadium. That's Mom and Dad."
Sullivan went on to point out that the top-10 jumbotrons in high school football stadiums in the nation are all in Texas.
"They're all in Texas. You don't have high schools with jumbotrons anywhere else."
Thursday night's speech to the Pecan Valley Republican Women wasn't the first time Sullivan has taken on the issue of "jumbotrons" at high school football stadiums. In Dec. 2011, Sullivan wrote a piece on the Empower Texans website criticizing then-Brownwood ISD Superintendent Dr. Reece Blincoe for simultaneously criticizing the state for under-funding public schools while lobbying for a $400,000 video scoreboard to be installed at Gordon Wood Stadium.
Following his speech, PVRW President Jessica Acker asked Sullivan to respond to the accusation that Empower Texans is anti-public school. Sullivan said that Empower Texans strongly supports what the public school system could be, adding that they are fierce critics of those who profit off of systems that fail Texas kids.
Sullivan's organization, Empower Texans, was founded in 2006 to inform the public to inspire residents to effectively be involved in their local and state governments.